A Time & Place That Suits You
A Fully Mobile Automotive Locksmith covering Kent and Sussex
At Your Home
As a fully-mobile auto locksmith, we can come to your home address for any services required.
At Your WorkPlace
We fit our work around you and your life. All work can be carried out at your workplace saving you time!
By The Road Side
Being stuck at the roadside isn't fun. We aim to get you moving as fast as possible when you need us the most.
We fit all of our services around you!
Having spare keys made or repairs to your locking system doesn't have to keep you in!
Our services are fully mobile and tailored to you.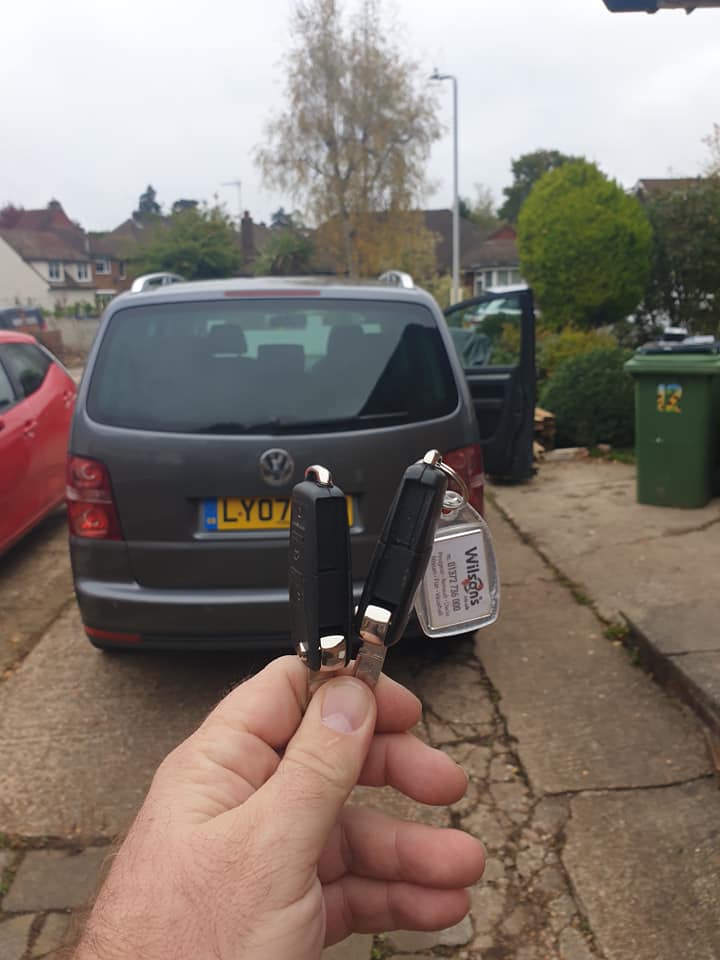 All of our work can be carried out at your location:
We know that these days, your time runs out pretty quickly unless you're at work and the days seem to drag!
That's why we can offer all of our automotive locksmith services right there on your drive.
As long as we have access to the vehicle we can cut spare keys, replace locks, recode ignition systems and much much more.
Offering our services to fit around you makes it easier for you to get on with your day as normal.
Most of our work is carried out on our customer's drives as you can see from our 5-star rating on our Google page here
We pride ourselves on our customer service, especially when we are working on your property.
All of our work is fully insured and guaranteed and we will always agree on a price upfront before starting any work.
A mobile locksmith at work
 Always looking to save you time and complete our work to a high standard we can now offer all of our services whilst you work! 
All we require is access to your vehicle and a place to park near it.
For most of our services we only need to be able to access the vehicle to carry out our work. As we are fully mobile with our operations we can work in your company car park(as long as we can get in and out!) We do require permission to be on the property to work but that's about it! 
Let us work on your vehicle whilst you are at work. 
Saving you time is one of the main reason to call a mobile auto locksmith, couple that with the fact we are always cheaper than a dealership and we have a winning combination.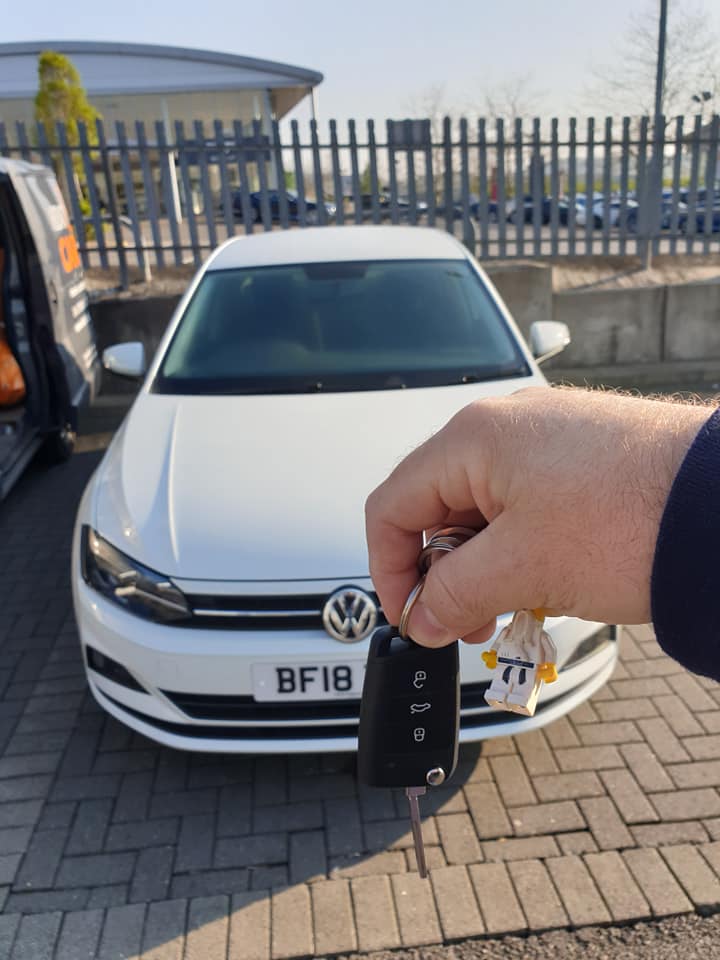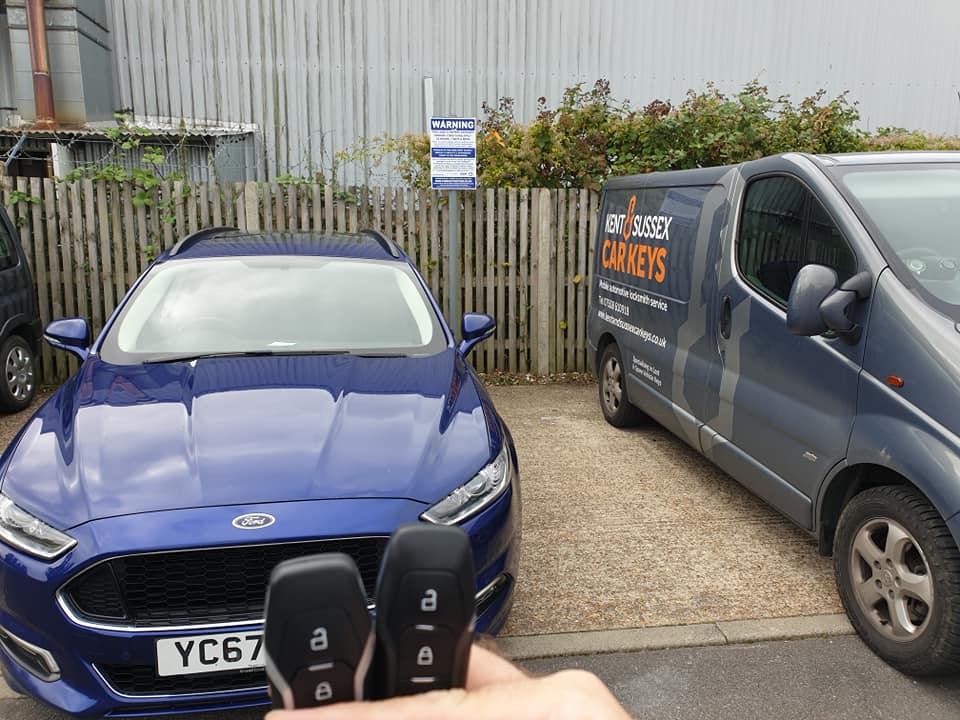 Any Time – Any Place – Any Vehicle
We can work with almost any situation, have an imported car suck at the roadside due to an ignition fault?
No problem! 
we are equipped to deal with it all whatever the situation.
we aim to offer our services at a time and a place that suits you.
Call the auto locksmith today
Call us today for a free quote and to book a time and a place that suits you within the Kent and Sussex area.
Based In Tunbridge Wells, covering…
As we are a fully mobile locksmith service we cover a wide 50-mile radius around Tunbridge Wells. 
We cover the following counties:
Kent 

Surrey

West Sussex 

East Sussex
Our response times are normally less than 2 hours, making us one of the fastest mobile locksmith services available in the UK.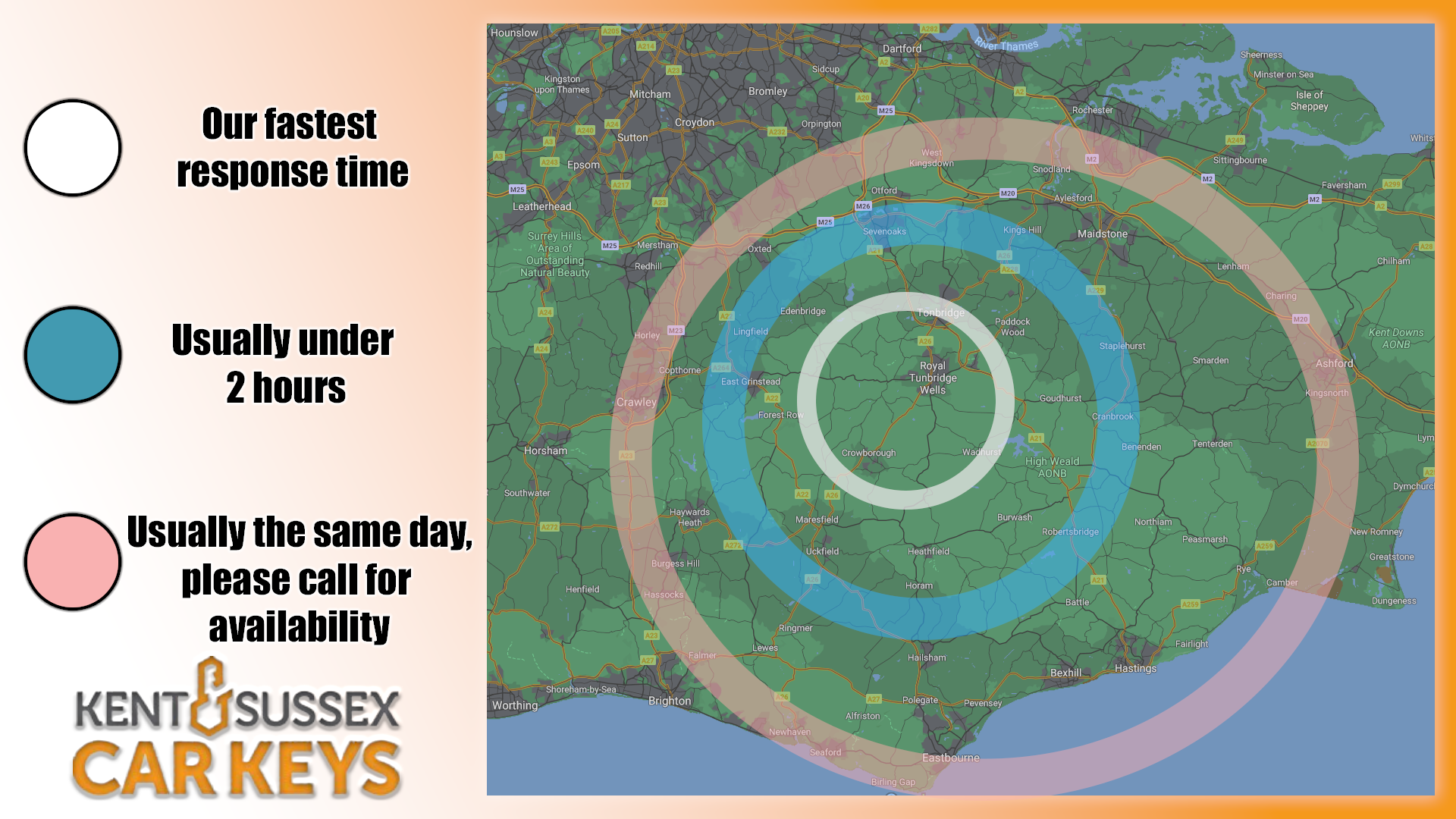 Pick A Time That Suits You
We know life gets busy sometimes.
That's why we offer a fully-flexible service with times convenient to you.
1 Year Guarantee On All Keys
We are so sure that our keys are of the highest quality that we offer a 1 year warranty on all keys.
Discounts For Multiple Keys
Having spare keys doesn't have to be expensive. We can offer discounts for multiple sets cut on the same visit.